Other articles
Christmas Song Parodies
Christmas Song Parodies
Few things can make you giggle like a school kid faster than Christmas song parodies. Find help remembering old favorites and learn about others that might become new favorites. Just keep in mind that some of these parodies may not be suitable for children or may be considered offensive by others.
Old Christmas Chestnuts
You've probably hummed one of these tunes through the years, but perhaps you never heard the entire parody. Check out these familiar and humorous Christmas songs.
Jingle Bells, Batman Smells
Children fond of Batman comics changed the lyrics of Jingle Bells to a nonsensical little taunt referred to as Jingle Bells, Batman Smells which is still sung today. It covers Batman and Robin, and their arch-nemesis The Joker, all with silly lyrics making light fun of them. Many other variations exist, all with similar phrasing.
We Three Kings
Another parody is to the tune of We Three Kings. It involves cigar smoking, explosions, and a somewhat morbid death for the kings in the song.
12 Days of Christmas Parodies
Parodies of The 12 Days of Christmas abound. These three older examples are still sure to elicit a chuckle.
The Twelve Daze of Christmas by Fay McKay and 12 Drunken Days of Christmas by Foster Brooks made previous generations chuckle with the knowledge of the effects of a few spiked eggnogs.
Bob Rivers is a famous Christmas parody songwriter. His Twelve Pains of Christmas pokes fun at the not-so-fun aspects of the holidays, like "rigging up the lights", in-laws, and post-Christmas bills. He has many albums, including Twisted Christmas and Chipmunks Roasting on an Open Fire.
I'll Be Cloned for Christmas
D.M. Goldstein's I'll Be Cloned for Christmas is a funny parody that anyone caught up in the rush of the holiday season will appreciate. The lyrics are set to the melody of I'll Be Home for Christmas and speak of the need for three clones to help with the hustle and bustle of the season, from working to shopping to partying.
God Rest We Weary Working Moms
Set to the melody of God Rest Ye Merry Gentlemen, this parody was written for frazzled working moms everywhere. God Rest We Weary Working Moms hilariously captures how moms also need a little rest and relaxation during the holidays.
New Sources of Holiday Parodies
If you're in the mood for full-blown holiday silliness, bookmark some of the following sites.
Loony Music parodies popular tunes and turns them into twisted Christmas songs. Who Let the Elves Out and The FruitCake Song are a couple of options. You'll also find Christmas song parodies such as It's the Most Wonderful Time. For a Beer, We Wish You a Hairy Christmas, O Kitty Tree, and Yellow Snow, Yellow Snow, Yellow Snow.
Yuks 'R' Us! has several versions of popular tunes. Look for multiple twists on Winter Wonderland, Deck the Halls, Rudolph the Red-Nosed Reindeer, and many more. Themes range from underwear to computers to politically correct lyrics.
Rock 108 has a collection of Christmas song parodies and novelty songs that are sure to tickle your funny bone. Top features include Bob and Doug MacKenzie's 12 Days of Christmas and South Park's Ding Fries Are Done, a ridiculous parody of Carol of the Bells.
Video Christmas Song Parodies
Videos add another dimension to holiday song parodies, and they range from mildly amusing to hilarious. Sometimes a favorite carol is parodied, other times a popular song is redone with twisted Christmas lyrics. Either way, the results are entertaining.
All I Want for Christmas Is Food
Mariah Carey's All I Want for Christmas Is You is a wildly popular holiday tune that has been parodied by a number of sources. In this version, Doug the Pug makes it clear what's on his Christmas list.
Ugly Christmas Sweater
Bang Bang was a monster hit for Jessie J., Ariana Grande, and Nicki Minaj, which is all the more reason to replace the usual lyrics with some very clever ones about the much-maligned Christmas sweater. Watch this trio offer up some Christmas spirit.
O Christmas Tree Oh 21st Century
Being green isn't easy. At least that's what one dad finds out when he tries to put up a holiday tree for his environmentally conscious daughter in this parody version of the classic O Christmas Tree.
Wrecking Ball Parody (Deck the Halls)
Regardless whether you're a fan of Miley Cyrus and her mega-hit Wrecking Ball, you're bound to find this parody hilarious. Be forewarned, there's a scene with a topless Santa swinging on a giant ornament that you just might find a little disturbing.
The Restroom Door Said Gentlemen
In this parody of God Rest Ye Merry Gentlemen, a hapless fellow falls victim to a prankster who thought it would be funny to switch the public restroom signs. You'll also get a kick out of the college quartet who perform the song with a great deal of animation.
Make Your Own Parody
You know the melodies; now try making up funny lyrics to some of your favorite carols. Most are easy to rhyme and if you include family inside jokes, you might create new hilarity! For example:
You'd better not bake,
You'd better not fry,
Don't set out any cake,
I'm telling you why,
Santa Claus is dropping some pounds.
He's avoiding all cookies,
And checking his scale,
He's waiting for Tae-Bo,
To come in the mail,
Santa Claus is dropping some pounds!
Crafting new song parodies would make a great Christmas Eve activity.
A Fun Twist to Christmas Songs
Everyone who celebrates the Christmas holiday enjoys listening to classic Christmas songs, but hearing the same songs over and over gets boring fast. Include a funny parody or two in your Christmas play list for a few chuckles and to give you a much needed smile during the hectic holiday season.
John Lewis Christmas 2015 campaign: Best parodies, PR Week
John Lewis Christmas 2015 campaign: Best parodies
November 09, 2015 by Omar Oakes, Campaign , Be the first to comment
The highly anticipated John Lewis Christmas advert has spawned numerous spoofs after being released on Friday.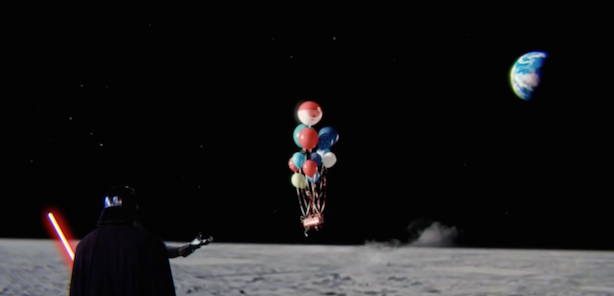 Created by Adam & Eve/DDB, the ad has become an annual event in the advertising calendar and was viewed 5.9 million times on YouTube within the first 24 hours of its publication.
Here is a round-up of the funniest and strangest #Manonthemoon spoofs so far:
The John Lewis Christmas Ad 2015 [The Dark Side Version] - Star Wars parody by The Poke
So what if the man living on the moon is actually Darth Vader? How would the Star Wars villain react to receiving a thoughtful gift from a little girl on Earth?
John Lewis Christmas Advert 2015 #ManOnTheMoon Parody by The Wagon Comedy
This very cheeky parody sees the man on the moon use the telescope for less-than reputable purposes.
John Lewis Christmas advert tribute ft Oasis by Goldie Lookin Chain
This effort by the Welsh comedy rap act is more of a critique on Christmas advertising in general and mixes in several John Lewis ads from recent years.
John Lewis Christmas Advert PARODY 2015 - #ManOnTheMoon #TheMoonManCometh by Redshirt Films
What if the #manonthemoon story was turned into a horror movie? Here is what the trailer may look like.
John Lewis Moon Hitler Advert 2015 - #MoonHitler Parody by Simon Mulvaney
Something never addressed in the ad is the question of why this poor old man is stranded on the moon in the first place. Perhaps he has done something evil? Perhaps he is Adolf Hitler?
Show Devon we care this Christmas. John Lewis Christmas Advert parody by Pirate FM
If you're from Devon you'll love it. If you're from Cornwall you might not like it. If you're not from either place you might not get it.
Wet Christmas, Parody Song Lyrics of Bing Crosby, White Christmas
Song Parodies -> "Wet Christmas"
"White Christmas"
Bing Crosby
"Wet Christmas"
Phil Alexander
The Lyrics
Just like the only ones I know
Where the treetops glisten as rain is pissin'
Down a carol singer's nose
With every christmas card I get
And my days are filled with regret
Because all my Christmases are wet
And you can bet on that, I know
But your days are filled with regret
Because all your Christmases are wet
Playing Christmas snow roulette
May you win your Christmas snow bet
But I'm betting Christmas will be wet
Because all my Christmases are wet
Your Vote & Comment Counts
The parody authors spend a lot of time writing parodies for the website and they appreciate feedback in the form of votes and comments. Please take some time to leave a comment below about this parody.
Place Your Vote
Voting Results
Voting Breakdown
The following represent how many people voted for each category.
User Comments
Comments are subject to review, and can be removed by the administration of the site at any time and for any reason.
Michael - 30". Maybe I'll just stick to the wet bit.
The author of the parody has authorized comments, and wants YOUR feedback.
Parody christmas MP3 скачать бесплатно, музыка parody christmas - 32 песен
parody christmas
The Key of Awesome
Christmas Parody Spectacular
Psychostick
N.O.E.L. (System of a Down - B.Y.O.B. Christmas parody)
OVERWATCH XMAS SONG
"All I Want For Christmas is Loot" (Parody by JT Machinima)
Suck On My Cock (Jingle Bells Parody)
OUTKAST HEY YA SANTA -OUTCAST COMEDY PARODY JOHN MAMMOSER AL YANKOVIC ADAM SANDLER MIKE MEYERS CHRIS ROCK HOWARD STERN CHRISTMAS
Random Encounters
Undertale the Musical: A Christmas Parody
All I Want For Troll Christmas Parody Cover
funny christmas songs
suck on my cock jingle bell rock parody
OVERWATCH XMAS SONG
"All I Want For Christmas is Loot" (Parody by JT Machinima)
Disturbed (Parody)
Down With The Christmas
Jon Cozart
All I Want For Christmas PARODY
This Is Aperture (parody on the "Nightmare before Christmas")
679 (Christmas Parody)
Cas van de Pol
Who's This - A Game of Thrones Parody of What's This from The Nightmare Before Christmas
12 Days of Minecraft - Parody of 12 Days of Christmas by SGCBarbierian (Musical Machinima) - YouTube
Sherry Vine & Greg Scarnici
All I Want For Christmas Is You (parody)
Brony MACH
The 12 Days of Ponymas (The Twelve Days of Christmas Parody)
Harry101UK
Christmas 2014 (Parody Song - Andy Williams - Its The Most Wonderful Time Of The Year)
Toby Turner (Tobuscus)
CHRISTMAS CREED SONG (With Arms Wide Open Parody)
Carol of the Brains
A Zombie Christmas parody
Dan "The Man" Adams
Merry Christmas (Fergalicious Holiday Parody)
Train - Shake Up Christmas (musical parody)
This is Ponyville (The Nightmare Before Christmas Parody)
CHRISTMAS MASH UP - League of Legends Parody (1)
TotalBiscuit
Just One More Preorder - A Christmas parody
Tom Waits & Peter Murphy (parody)
Scarlett Peace
Christmas Don't Be Late (Alvin and the Chipmunks Parody)
Scarlett Peace
Christmas Don't Be Late (Alvin and the Chipmunks Parody)
12 Days of Christmas (Parody)
The Beatles Parody
Rockin' Around The Christmas Tree