Other articles
Indiana Pacers vs
Indiana Pacers vs. Miami Heat: Game 7 Score, Highlights and Analysis
The 2013 NBA Finals are set.
The Miami Heat defeated the Indiana Pacers 99-76 in Game 7 of the Eastern Conference Finals. The San Antonio Spurs will now head to South Beach Thursday night for Game 1.
The Heat busted things open in the second quarter, leaving little doubt from that point on.
They demolished the Pacers defensively, forcing 21 turnovers, and held their own in the paint, matching Indiana's 30 points.
The Heat attacked Roy Hibbert and David West like they were unable to do in Game 6, hitting 33-of-38 free throws. Miami also out-rebounded Indiana, 43-36.
As the game wore on and Heat announcer Michael Baiamonte's syllables got longer, the Heat just kept piling on the lead. Then it was time for The White Stripes chorus to kick in. A party ensued through the fourth quarter of this elimination game, as Miami's fans sent them off to their third straight championship series.
LeBron James didn't register a field-goal attempt until the 4:45 mark of the first quarter. His objective was to get his teammates involved early. Dwyane Wade took to that, finishing 7-of-16 from the field for 21 points. Wade was active on both ends and looked like a new man in comparison to his past few games.
James got himself going eventually, tallying a game-high 32 points and eight rebounds. He got to the line 16 times, hitting all but one. James' play in the painted area early set a tone for the remainder of the game. He didn't shy away from the interior scoring and the Heat were able to nullify that Pacer advantage.
The Pacers struggled through serious foul trouble, but Hibbert overcame much of it. He finished with 18 points and eight rebounds. West scored 14 points, but Paul George fouled out with just seven points to his name. He was just 2-of-9 from the field.
The Heat turned 15 Pacer turnovers into a 52-37 halftime lead. Miami outscored the visitors 33-16 in the second quarter, with James going for 12 of those points. George started a disappointing 1-of-6 from the field.
The Heat had more of the same in the third quarter, forcing Indiana into bad shots and attacking the rim on offense. Wade picked up his fifth offensive rebound, earning an and-1 on the put-back. The free throw put Miami ahead 64-49 with 5:24 to go in the quarter.
Right in a row, Wade, James and Chris Bosh went to the line one-by-one. The Heat's Big 3 were attacking the basket on every possession. They went 7-of-7 from the line during a late third-quarter stretch. The fouls they drew came from George (No. 3), Hibbert (No.4) and West (No. 3).
Shortly after, Hibbert was forced to the bench after picking up his fifth personal foul on the offensive end. Bosh drew the foul with 2:09 remaining and his team up 70-53.
If the wind wasn't already gone from the sails of the Pacers, James drew George's fifth foul just before the quarter ended. That sent George to the bench with Hibbert, while a pair of freebies pushed the Heat ahead 76-55 entering the final frame.
James topped the 30-point mark on a jumper with 8:19 left. On the very next possession, Chris Andersen drew George's sixth personal foul. Andersen's free throws moved Miami ahead 84-61.
Gerald Green started getting some run for Indiana in the fourth quarter, but was unable to find any success. Instead, Norris Cole tossed in a three as the Heat neared a 30-point lead, up 89-63 with 6:01 left.
James and Wade got their separate standing ovations while subbing out inside the 5:07 mark. The duo combined for 53 points and 17 rebounds on the night. They were also 22-of-23 from the free-throw line.
With 2:07 remaining, reserves Jeff Pendergraph and Cole got into a bit of an altercation. Both were ejected along with what appeared to be rapper Flo Rida's manager. Flo Rida was giving Justin Bieber a run for most talked about courtside celebrity.
Remaining Pacers fans were treated to some brotherly love late, as a Ben Hansbrough rebound led to a layup for his brother Tyler at the other end. An Orlando Johnson layup with 14 seconds left was the final horn on Indiana's 2012-13 season.
Now begins an offseason of attempts to improve. The Pacers will need more to get over the hump in the East next year. All that can wait, however, as the Heat advance and will play the San Antonio Spurs in what is sure to be a dynamite series.
Fultz to Start Season on the Bench
Blazers' McCollum Suspended for Opener
Report: Bucks Serious Suitors for Jefferson
Wade Reportedly Also Considered LAL, OKC
Copyright © 2017 Bleacher Report, Inc. Turner Broadcasting System, Inc. All Rights Reserved. BleacherReport.com is part of Bleacher Report – Turner Sports Network, part of the Turner Sports and Entertainment Network. Certain photos copyright © 2017 Getty Images. Any commercial use or distribution without the express written consent of Getty Images is strictly prohibited. AdChoices
Turner Logo
Miami Heat - Indiana Pacers - Game 7
Miami Heat - Indiana Pacers - 04.06.13 Game 7
Внимание! Для просмотра этого матча вам необходимо купить подписку Приобрести подписку
MIA: Haslem, James, Bosh, Chalmers, Wade
Видео этой категории
Все категории
Последние видео
Brisbane Bullets - Phoenix Suns 13.10.2017
Detroit Pistons - Milwaukee Bucks 13.10.2017
New Orleans Pelicans - Memphis Grizzlies 13.10.2017
Los Angeles Lakers - LA Clippers 13.10.2017
Miami Heat - Philadelphia 76ers 13.10.2017
San Antonio Spurs - Houston Rockets 13.10.2017
Toronto Raptors - Chicago Bulls 13.10.2017
Washington Wizards - New York Knicks 13.10.2017
Sacramento Kings - Golden State Warriors 13.10.2017
Cleveland Cavaliers - Orlando Magic 13.10.2017
Sacramento Kings - LA Clippers 12.10.2017
Dallas Mavericks - Atlanta Hawks 12.10.2017
Houston Rockets - Memphis Grizzlies 11.10.2017
Washington Wizards - Miami Heat 11.10.2017
Philadelphia 76ers - Brooklyn Nets 11.10.2017
nbatv.ru I nba-online.ru I 2011-2017
Поиск по командам
Авторизация
Войти через социальную сеть
Вы можете использовать быстрый вход через социальные сети, при условии, что вы уже зарегистрировались через почту и привязали какой-то из сервисов к своей учётной записи.
Miami Heat – Indiana Pacers Game 7: Where To Watch Free Live Stream Online, TV Channel, Betting Odds, Prediction, Preview 2013 NBA Playoffs
Miami Heat – Indiana Pacers Game 7: Where To Watch Free Live Stream Online, TV Channel, Betting Odds, Prediction, Preview [2013 NBA Playoffs]
Dwyane Wade and Chris Bosh will have to step up to help the Miami Heat reach the 2013 NBA Finals.
The biggest game of the 2012-2013 NBA season is set to get underway on Monday night. The Miami Heat and Indiana Pacers will square off in Game Seven of the Eastern Conference Finals.
The series will culminate in Miami, after having gone back and forth for almost two weeks. No team has held more than a one-game lead and Indiana avoided elimination on Saturday night in Game Six. Now, the two teams will play for the right to meet the San Antonio Spurs in the NBA Finals.
Throughout the 2013 NBA Playoffs, the Heat have remained overwhelming favorites to win the title. Even when playing on the road, Miami has never been an underdog this postseason. After scoring just 77 points in their 14-point Game Six loss, the Heat are giving the Pacers seven points in Game Seven.
Despite the betting odds at Las Vegas Casinos, the Pacers have gone toe-to-toe with the Heat for six contests. Miami has outscored Indiana by just five points in the series and failed to cover the point spread four out of six times.
In the regular season, Miami was the far superior team. As the No.1 seed, the Heat finished with 17 more wins than the Pacers. They also breezed through the first two rounds of the playoffs, losing only once. In the Eastern Conference Finals, however, the Heat have been unable to advance because of poor performances by Dwyane Wade and Chris Bosh.
LeBron James has continued to play like an MVP in this series, averaging 28.5 points, 7.2 rebounds and 5.5 assists on 51.6 percent shooting. The other members of the "Big Three" have failed to provide James with much help. Wade has been affected by a knee injury, scoring almost seven points less than his season average. Bosh has been virtually invisible, scoring 11.3 points and grabbing less than four rebounds per contest. The two played so poorly in Game Six that they were benched for much of the fourth quarter.
Miami may have the best player on the court, but Indiana's supporting cast has been much more productive. Roy Hibbert has dominated Bosh down low, averaging 22.8 points and 10.8 rebounds a game. David West has also contributed to the Pacers dominance in the interior.
The play of James's teammates has been reminiscent to that of his teammates with the Cleveland Cavaliers. With both Wade and Bosh slumping, James could be the victim of a similar fate in 2013. Even in Game One when he put up 30 points and a triple-double, James needed to hit a buzzer-beater to give the Heat the win.
Paul George has made the leap to become one of the best players in the NBA, but the Heat still have a big advantage with James as their top star. George is averaging 21.5-5.8-5.3 this series, but he's never played in a Game Seven. James is almost sure to have a big performance, since he has the highest scoring average of any player who's participated in multiple Game Seven's.
The elimination game will likely draw the biggest rating of any game this season. Viewers can watch the contest on TV or online. The 2012 Eastern Conference Finals finale between the Heat and Boston Celtics drew a 9.1 overnight rating, making it the most watched NBA playoff game on cable since records started being kept in 2003.
Prediction: Miami 100, Indiana 88
2012 Heat vs Pacers Over
2012 Miami Heat vs Indiana Pacers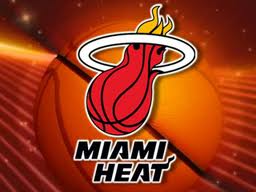 The Miami Heat are heading to Indianapolis to play against the Indian Pacers on Valentine's Day night. Thus far the Heat have been playing pretty consistent for the most part, and seem to have a better team dynamic and feel for one another on the court. The Pacers, in my opinion, have been playing better than predicted so far in the 2011-2012 NBA season.
Miami Heat (22-7) vs Indiana Pacers (17-10)
Heat vs Pacers BetOnline.com Betting Odds and Money Line:
Indiana Pacers +110
Miami Heat -2 (-110)
Indiana Pacers +2 (-110)
Odds subject to change. Please visit BetOnline.com for current odds.
Heat Beat Point Spread and I take the Over
Tuesday, February 14, 2012 at 7:05pm Eastern Time
The Miami Heat are off to a solid start for the 2011-2012 NBA season. They are 22-7 and seem to be playing much better as a team than last year. Looks like they have a better feel for one another on the court, and understand each other's responsibilities more especially with LeBron James, Dwayne Wade and Chris Bosh. They are on a 3 game winning streak and match up well against the Pacers in my opinion, but the basketball gambling websites say different with posting only a 2 point spread.
The Indiana Pacers are playing better than predicted after 27 games, even with their 3 game losing streak. They are 17-10, were 17-7 a week ago with one of the best records in the league, but will have home court advantage against the Heat in tonight's game. The Pacers need to play tough defense and win the turnover battle to win this game.
Miami Heat vs Indiana Pacers Prediction:
Last year's runner-up team in the NBA Championship, the Miami Heat, will have a great battle tonight against the Indiana Pacers on Valentine's Day. This is anticipated to be a closer game than predicted, but if foresee the Heat having minimal troubles against the Pacers. The Big-3 for the Heat will have a great game and beat Indiana in a high scoring game.
Heat Beat Point Spread and I take the Over